Beauty & Self
Books & Music
Career
Computers
Education
Family
Food & Wine
Health & Fitness
Hobbies & Crafts
Home & Garden
Money
News & Politics
Relationships
Religion & Spirituality
Sports
Travel & Culture
TV & Movies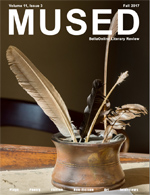 Autumn is a season for counting our blessings. For realizing just how much we have in life where so many others are without. It can often be easy to take things for granted. Things which millions of people desperately dream of having. By pausing for a moment, and looking around with mindfulness, we can find a new center. Begin with fresh energy.

Enjoy the Mused Autumn Equinox 2017 Issue



The Suwannee River
Florida - Georgiana Kurtz, Editor

The Suwannee River, made famous by Stephen Foster's song "Old Folks at Home," is a federally designated wild river. It is a beautiful river to paddle, particularly in its upper and middle sections, with many places available for overnight stops.




A Critical-Thinking Mindset
Distance Learning - Patricia Pedraza-Nafziger, Editor

No matter what level of education people achieve, chances are they have, or will eventually come across, the term "critical thinking." Critical thinking is a process in which an individual questions the reasoning behind a particular claim or decision.




The cold in Knoxville, Tennessee
Romantic Getaways - Marianne de Nazareth, Editor

The cold is not something I look forward to in Knoxville, but it's bearable unlike Omaha's minus wind chills.




Broadleaf Evergreens for Holiday Decorations
Landscaping - Connie Krochmal, Editor

Add a natural touch to your holiday decorating scheme with fresh greenery. A number of broadleaf evergreen plants are suitable for holiday decorations.




Unexplained Infertility And Natural Killer Cells
Infertility - Hannah Calef, Editor

Elevated levels of natural killer cells (NK) - the good guys that keep you healthy - may make women infertile too!




Body Care Holiday Gift List 2017
Body Care - BB Lee, Editor

This year, the gift list is all about health and comfort. The holiday gifts on this list are also practical and very affordable. Check out the 2017 Body Care Gift List.


| Google+ |
E D I T O R R E C O M M E N D E D
Math Board Game - Addition - Subtraction - Time


The two-sided game board reinforces addition and telling time on one side and the other side is for the subtraction game. Each game has its own deck of cards, simple to follow instruction sheet, and offers variations for different learning levels, one on one, and team play.
Ultra Luster Waterless Car Wash


Ultra Luster Waterless Car Wash: Article Coming in Spring but you can buy it now! Waterless Car Washing just got easier and the results just got better! Get yours now at: UltraLuster Wash, Phone: 877-677-4463, Email: sales@ultralusterwash.com, distributors@ultralusterwash.com shipping@ultralusterwash.com customerservice@ultralusterwash.com
Low Carb - First Two Weeks


Get instant access to step by step instructions, handy tips to get you through the rough spots, background information on low carb dieting, and more.