Beauty & Self
Books & Music
Career
Computers
Education
Family
Food & Wine
Health & Fitness
Hobbies & Crafts
Home & Garden
Money
News & Politics
Relationships
Religion & Spirituality
Sports
Travel & Culture
TV & Movies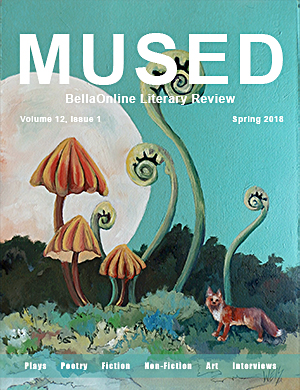 It can seem sometimes as if our world is whirling faster than we can keep up with. It can become overwhelming. Exhausting.

A balm which rejuvenates is to explore the creative efforts of individuals around us. To begin, turn off the noise and clatter of the world at large. Take a deep breath and instead focus on connecting with one fellow human being who presents their jewel of a thought to you. Examine it mindfully. Consider its meaning. Soak in the moment with this one human. Then connect with another. And another.

Enjoy the Mused Spring Equinox 2018 Issue



Banned Natural Material Used in Art Objects
Art Appreciation - Camille Gizzarelli, Editor

Continued pressure from special interest groups have helped 'curb' poaching of elephants, sea turtles, & factory farming of reptiles. Iíll discuss man-made materials that replace the natural.




Pacific Rim
Movie Mistakes - Isla Grey, Editor

Mankind is on the edge of extinction against the monstrous Kaiju. Can the Jaeger operation succeed? Try to find these movie mistakes in "Pacific Rim".




Does the Nose Really Know?
Fragrance - Juliette Samuel, Editor

n a world where personal preference and perfume choices go hand in hand, it's extremely important that you get what you like. That's the job of a Nose. Learn more about ...




10 Ways To Avoid Gaining Weight On A Cruise
Cruises - Nancy Schretter, Editor

Itís easy to gain weight on vacation and the dining options on today's cruise ships are particularly tempting. Cruise vacations donít have to be synonymous with weight gain, though. It's all in how you approach it. If youíre trying to avoid weight gain on your cruise, here are ten great tips.




Does Beauty Have An Expiration Date?
Ethnic Beauty - Juliette Samuel, Editor

Beauty plays such an important role in our lives. Do you ever get to the point of thinking you should stop trying to enhance what you have? Shush that noise!




Honolulu, Hawaii History and Culture
Senior Travel - Hazel M. Freeman, Editor

When it comes to sun and surf, few destinations can compete with Honolulu. Itís also a great place to explore Hawaiiís art, culture, and history. Guest author Janet Collins suggests some things to see and do that have senior-friendly pricing.


| Google+ |
E D I T O R R E C O M M E N D E D
Giadaīs Kitchen


In this book each recipe is a burst of taste, colors and combination of flavors; the instructions are really easy to follow for anyone, and the final result of virtually every dish is presented in a beautiful arrangement of photographs.
Caillou Goes Back to School DVD


Caillou Goes Back to School DVD is great for kids who are Caillou fans, and other kids who enjoy watching shows that depict family life.
Personal Alarm & Whistle Combo


This is a wonderful personal alarm and whistle combo suitable for kids or adults. The personal alarm fits on all size wrists, and is easily adjustable with the Velcro type strap, which keeps it nearby while walking, jogging, or traveling. The alarm is loud and quickly alerts those nearby if one needs help.