Beauty & Self
Books & Music
Career
Computers
Education
Family
Food & Wine
Health & Fitness
Hobbies & Crafts
Home & Garden
Money
News & Politics
Relationships
Religion & Spirituality
Sports
Travel & Culture
TV & Movies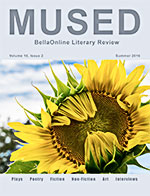 For many people, summertime is the perfect time to explore creativity. Plein air artists bring easels to gardens and beaches, showcasing nature's colors in oils, acrylics, and watercolors. Photographers ferret out a million sights to immortalize. Poets and writers stretch languidly beneath a shady oak tree, listening to the gentle buzz of insects, and constructing entire worlds out of the ether.

Enjoy the creativity of our community of artists - and then explore your own! We'd love to see your works for upcoming issues!

Summer Solstice 2016 issue of Mused

Heat Waves in Southern California
California - Korie Beth Brown, Ph.D. , Editor

For most of the year, California is blessed with temperate weather, but heat waves can and do occur throughout the year. Vacations in California must be planned around that fact.




Sukha-Sthira-Asanam
Yoga - Korie Beth Brown, Editor

These three Sanskrit words embody Patanjali's directive for how to practice Yoga poses: simply and with ease. What exactly does that mean?




Dark, Macabre, Grotesque Themes in Art
Art Appreciation - Camille Gizzarelli, Editor

Dark, Macabre, and Grotesques themes in art can best be described as your worst nightmares. Why would artists choose to express themselves in this way? I'll discuss my interpretations.




Scented Homemade Hand Creams for Healthy Hands
Fragrance - Juliette Samuel, Editor

If you're a gardner, during the summer months, your hands help you with everything you do. In this article we'll take a look at ways to protect your hands and nails with a great smelling hand cream and cuticle oil.




Giving Face Time To Ethnic Beauties
Ethnic Beauty - Juliette Samuel, Editor

Does your face need special care? Well, it is your calling card, so to speak. On a daily basis, your face is exposed to the elements … dirt, pollution and damaging UV rays. So here are a few tips on how to cleanse, treat and protect your beautiful ethnic skin.




Sleeping Bear Dunes #1 Most Beautiful in America
Senior Travel - Hazel M. Freeman, Editor

Just a few years ago viewers of ABC's "Good Morning America" voted Michigan's Sleeping Bear Dunes National Lakeshore the "Most Beautiful Place in America," edging out such better-known spots as the Grand Tetons, Sedona, Newport, Cape Cod, Aspen, Ashville and Hawaii's Lanikai Beach.


| Google+ |
E D I T O R R E C O M M E N D E D
LoMásTv


Highly recommended product, if you really want to improve your Spanish. While watching the video you have the option to read, in subtitles, the words in Spanish and, if you also chose it, you can read the translation (in English) for it. Simply... ¡Genial!
Giada´s Kitchen


In this book each recipe is a burst of taste, colors and combination of flavors; the instructions are really easy to follow for anyone, and the final result of virtually every dish is presented in a beautiful arrangement of photographs.
The Killer Angels by Michael Shaara


Best historical novel ever, and I don´t even like most historical novels. Epic and unforgettably intense! Among other things, reading this will teach you how to hook your readers through writing strong character emotion.