Beauty & Self
Books & Music
Career
Computers
Education
Family
Food & Wine
Health & Fitness
Hobbies & Crafts
Home & Garden
Money
News & Politics
Relationships
Religion & Spirituality
Sports
Travel & Culture
TV & Movies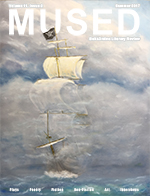 Our time on this Earth is fleeting and precious. We often know that in a vague, intellectual sense, and yet we can find ourselves whittling away those finite minutes without mindful thought. We should celebrate the beauty in a child's smile. The radiant sound of saying "I love you" to that special person. The warm touch of a hand. The delicate scent of a wildflower.

Enjoy the Mused Summer Solstice 2017 Issue



10 Essential Oil Tips & Tricks
Body Care - BB Lee, Editor

10 Essential Oil Tips & Tricks




Perfect Hard Boiled Eggs recipe
Cooking for Kids - Kymberly A. Morgan, Editor

Hard boiled eggs make perfect snacks for you and your kids. They are portable, fast, nutritional, and will hold you over until your next meal with their protein content. This is a fail-proof recipe that will come out perfect every time. Pair them with a complex carbohydrate for a perfect snack!




Flu seems to fly around the city of Bangalore
Romantic Getaways - Marianne de Nazareth, Editor

The monsoons are delayed and have brought the 'Flu with them




Santiam Filberts and other Varieties
Landscaping - Connie Krochmal, Editor

Santiam filberts and Yamhill filberts are only two of many outstanding varieties. Here are details on these varieties.




Short Videos by Experts Explaining ADD
Attention Deficit Disorder - Connie Mistler Davidson, Editor

A picture is worth a thousand words, and a video made by an articulate expert is worth its weight in gold. Do you ever get tired of talking to people who do not understand or believe in the challenges that come with Attention Deficit Disorder? These expert videos might help them to understand.




Coins May Replace Nigerian Notes
Coin Collecting - Gary Eggleston, Editor

A scarcity of small-denomination cash, inflation, the high cost of production and rampant counterfeiting are many of the reasons why Nigeria is currently considering replacing several bank note denominations with coins. Particularly vocal on this issue is Mustapha Bukar, who represents the Katsina,


| Google+ |
E D I T O R R E C O M M E N D E D
Paradise in Plain Sight


Paradise in Plain Sight: Lessons from a Zen Garden by Zen Priest Karen Maezen Miller, is both memoir and Zen guide. Maezen Miller shares experiences repairing and tending a historical Japanese garden in her own backyard, guiding the reader towards direct insight. It is beautifully written, honest, and relevant to the modern seeker of any faith.
The Divine Home


An absolutely gorgeous home decorating book on how to decorate with spiritual objects such as santos, retablo, milagros, statues of saints, and crucifixes. Many examples of Santa Fe style and Mexican hacienda style, but also examples of homes in NYC and other places. Beautiful full color photographs everywhere. Serene, spiritual.
Giada´s Kitchen


In this book each recipe is a burst of taste, colors and combination of flavors; the instructions are really easy to follow for anyone, and the final result of virtually every dish is presented in a beautiful arrangement of photographs.