Beauty & Self
Books & Music
Career
Computers
Education
Family
Food & Wine
Health & Fitness
Hobbies & Crafts
Home & Garden
Money
News & Politics
Relationships
Religion & Spirituality
Sports
Travel & Culture
TV & Movies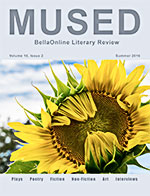 For many people, summertime is the perfect time to explore creativity. Plein air artists bring easels to gardens and beaches, showcasing nature's colors in oils, acrylics, and watercolors. Photographers ferret out a million sights to immortalize. Poets and writers stretch languidly beneath a shady oak tree, listening to the gentle buzz of insects, and constructing entire worlds out of the ether.

Enjoy the creativity of our community of artists - and then explore your own! We'd love to see your works for upcoming issues!

Summer Solstice 2016 issue of Mused

Profitable Stamp And Coin Collecting
Stamps - Gary Eggleston, Editor

Ever since the world began, humans were born to get busy. This is the main reason why most of the people are engaged into different activities life sports and different hobbies especially if they have nothing to do.




How To Collect Quarters
Coin Collecting - Gary Eggleston, Editor

Collecting coins is a hobby that anyone and everyone could do. But collecting quarters is a hobby that - currently – it is estimated that one hundred six million Americans do. Men, women, and children of all ages are involved in collecting quarters.




Having Purpose Delays Disease
Geriatrics - Patricia Villani, MPA, PhD, Editor

Learn how to fight off Alzheimer's and promote brain health as we age. A major study describes how we can live life with purpose and help fight disease at the same time.




Tumors From Tea Debunked
Tea - Mary Caliendo, Editor

Medical testing and studies done and their results regarding tumors and tea as the cause, debunked.




A Woman Found Dead in a Farmhouse Book Review
Suspense / Thriller Books - Karen Hancock, Editor

This trilogy begins with Rebecca Heilshorn, who is found dead in a remote farmhouse; Brendan Healy, a recovering alcoholic with many personal problems is the detective trying to solve the murder. As he investigates, he is drawn into a world of powerful politics and organized crime.




Don't Bring Pickles to a Potluck
Etiquette - Lisa Plancich, Editor

Labor Day and Potlucks go hand in hand. When the invitation requests, make sure your hands arrive with the proper covered dish and something to drink.


| Google+ |
E D I T O R R E C O M M E N D E D
Experiencing God


The Creator of heaven and earth. Our God is given names in Scripture that describe characteristics of His personality. Experience God through the names given Him in Scripture.
Ultra Luster Waterless Car Wash


Ultra Luster Waterless Car Wash: Article Coming in Spring but you can buy it now! Waterless Car Washing just got easier and the results just got better! Get yours now at: UltraLuster Wash, Phone: 877-677-4463, Email: sales@ultralusterwash.com, distributors@ultralusterwash.com shipping@ultralusterwash.com customerservice@ultralusterwash.com
Math Board Game - Addition - Subtraction - Time


The two-sided game board reinforces addition and telling time on one side and the other side is for the subtraction game. Each game has its own deck of cards, simple to follow instruction sheet, and offers variations for different learning levels, one on one, and team play.